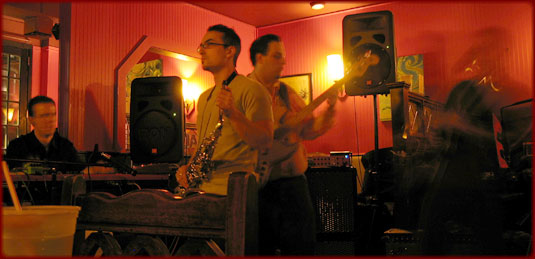 Jeremy Parker (hammond organ, electric piano, etc.)

As the composer for most of the Bishops' original material, Jeremy first studied privately with Bruce Katz while attending UMass Lowell for Electrical Engineering and Sound Recording Technology. Currently, Jeremy is under the tutelage of jazz guru and educator, Charlie Banacos. Besides being inspired and encouraged by the talented community of Boston-area musicians, Jeremy is also influenced by artists such as: Herbie Hancock, James Brown, Jimmy McGriff, Jill Scott, The Roots, Joshua Redman, Charlie Hunter, and Robert Walter. Jeremy has his roots in the Boston blues scene from years of gigging with artists like Ricky "King" Russell, the leader of the house band at the original House of Blues. Jeremy has also played with the Royal Family, the Dwight Ritcher Band, Two Ton Shoe, and M.O. Joe. Nowadays, he's active in his organ trio, Organ In Orbit, and Steve Giannaros' new quartet, Organism, as well as Headshaft and the Boston Horns. And when he's not working as an electrical engineer, Jeremy likes to relax by designing and building his own gear, such as his custom Hammond A-100, high-power leslie, and subwoofer.




Justin Piper (guitar)

Justin holds a B.M. from Berklee College of Music, and an M.M. from the New England Conservatory. His studies include lessons and classes with Charlie Banacos, Jerry Bergonzi, George Garzone, George Ruckert, Bruce Bartlett, Cecil McBee, Allan Chase, Gene Bertoncini, Ben Monder and Joe Morris, among others. He currently resides north of Boston where he teaches and composes, while performing all over New England. Straddling the lines between jazz, funk, rock, and blues, he draws from the harmonic complexity of John Coltrane as much as the raw energy of Jimi Hendrix, while also being an accomplished classical and finger style guitarist. Justin has a strong foundation in the theoretical aspects of music, and is currently writing a book on western application of North Indian polyrhythmic concepts. Justin uses and endorses John Pearse strings and Woodies pedal boards.




Daniel Abreu (tenor saxophone, EWI)

Dan grew up playing music, first taught by the great Boston area wind player and teacher, Ray Taranto. Attending the youth music program at the New England Conservatory, he studied classical flute with Daniel Riley, and was a member of the mass youth wind ensemble which toured the western Soviet Union. He continued his studies at UMass Lowell with David Martin, and began freelancing in the Boston area where he earned a reputation as a solid session and live saxophonist. After graduating from UMass, Dan played with local funk favorites like Spingo Freen, and toured the east coast with New Soul Nation. Dan continued advanced studies in improvisation and composition with Charlie Banacos, and is an original member of Blacksnake, one of Boston's most popular funk and soul groups. Currently, Dan works in the music industry and has had the honor of performing on stage with greats like Parliament Funkadelic and Stevie Wonder.




Ben Alman (bass)

Ben (aka "Cowboy") plays the bass like you'd want him to: righteous grooves you can shake your booty to, and crazy solos you'll never shake your head at. Funk is what you'll hear him playing with the Bishops, but Ben has actually been playing on the Boston blues scene for years, with artists such as Sweet Willie D, Nicole Nelson, and KD Bell. Still, Ben loves to bring the funk, and has been bringing said funk also for years, with groups like the Royal Family and the Pollotronik All*Stars. Ben's influences run the gamut of funk bass heavyweights, but you can especially hear the influences of his heroes Paul Jackson, Verdine White, Jaco Pastorius, and even George Benson in his playing. He studied music performance at UMass Lowell, where he played a few REALLY ugly looking basses; He now has a really cool looking Fender Jazz bass, and it just happens to sound cool too. In addition to playing music, Ben is an accomplished web designer & developer with high-profile sites such as this one under his belt.




Pete Maclean (drums)

Pete currently resides in "The City Of Dreams" - Waltham, Massachusetts. Besides his love for playing the drums, he also enjoys growing hydroponic cucumbers in his basement. Pete is always looking to give out samples of his cucumbers, so if you're interested, you can speak to him about that at any gig. Pete has been playing drums for 14 years and has had the privilege to study with jazz great Bob Gullotti for 3 years. He has been playing around the Boston area for the last four years and has played in many different groups. Besides playing in the Freelance Bishops, he has played or recorded with M.O. Joe, Goodfoot, the Boston Horns, Melvin Sparks, the Pollotronik All*Stars, the Ben Zecker Band, The Well, Eric Bloom and The Reform Party, Jay Yost Band, and the Justin Piper Trio. Roy Haynes, Pete's top influence and favorite drummer continues to influence and humble him on a daily basis. Unfortunately, any other information on Peter Maclean is classified and can only be accessed by top ranking officials.