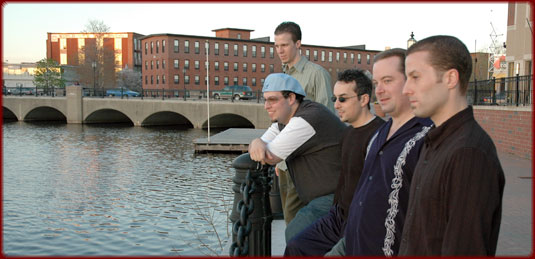 "There must be something in the water in Lowell, Massachusetts that turns out fantastic jazz impov groups. Last month it was the Mike Valeras Group, and this month it's the Freelance Bishops. Whatever it is, The Freelance Bishops exhibit on their new CD, "Blowin' In Style", that they're just as good as any band in the country playing this genre of music.
All the best influences are there... Steely Dan, Mike Stern, Spyro Gyra, and more. Hip and contemporary. And although the band may not agree... very mainstream. But that's a good thing. They'll sell more albums that way.
Main songwriter and keyboardist Jeremy Parker leads the way penning six of the album's ten tracks. Guitarist Justin Piper chimes in with two, while saxophonist Stephen Giannaros unveils one. The remaining track is credited to Alistair Sim.
All the cuts are bouncy and vibrant. Lots of colorful soloing and tight rhythms abound while The Freelance Bishops strut their stuff. In all, this disc makes for an exceptional listenting experience. One of this issue's best!"
Douglas Sloan, Metronome Magazine, February 2003 Hearings
One of Doug's Top 5 for February 2003
"...They were in fact jazzilicious... the jazz could be incredibly vibrant and groovy at times, lending it a three-dimensional sort of feeling that seemed to jump from the speakers."
Marcella Iovanni, Soundcheck Magazine, August 2003 Amplifier
"Out of the heady jazz scene in Lowell emerged a band called the Freelance Bishops. A handful of college buddies from U-Mass Lowell made a habit out of jamming together after classes got out and of frequenting their local club scene on the weekends. It wasn't long before this instrumental jazz/funk band made a debut album to showcase their talent and became a staple down in the Hub's better known clubs like The Good Life, The Middle East, and The House of Blues....
[The Freelance Bishops] should find quite a few places to play, since they have demonstrated they can reach jazz fans as well as the soul/funk crowd. Their tunes have landed in regular rotation at radio shows like WERS' Jazz Oasis and WJUL's Soul Power... Whatever The Freelance Bishops are doing right, they manage to find an audience wherever they go."
Bill Copeland, Metronome Magazine, April 2003 Cover Story
"The Boston group delivers the soul-jazz sacrement for everyone who just can't get enough of that funky stuff. James Brown's JBs provide the rhthmic ideas, while everyone from Grover Washington Jr. to Coltrane influence the jam-friendly heads. Looks like booty time to us..."
The Isthmus (Madison, WI), January 12, 2001 Critics' Choice Guide to Arts & Entertainment
"Fans who've come to know and love the funky retro-funk of touring musical favorites like Robert Walter's 20th Congress, Ron Levy or even the Meters and Merl Saunders have a chance to get familiar with a new entry to the jazz-funk world. Tonight brings the local debut of the Freelance Bishops, a Boston-based instrumental quintet whose own 1960s and 70s-style jazzy soul-infused funk seems to be right up the alley of those who dig sounds that range from James Brown and Herbie Hancock to the Greyboy Allstars..."
Andy Stonehouse, Arts & Entertainment Editor from the Vail Daily (Vail, CO), January 19, 2001
"Too often I've encountered Boston-based funk outfits that completely lack soul and have no concept of funk. The Freelance Bishops are the rare exception, blending jazz and funk with brilliant execution. Composer Jeremy Parker has concocted some of the tightest instrumentals I've heard in years. Old Town Pump kicks off the disc with a delicious groove, tremendous sax lines, and unexpected changes. These themes continue throughout, making the quintet's debut a pure pleasure.
Consistent production accentuates Brian Coakley's funky bass lines and Stephen Giannaros' tenor and soprano sax. Drummer Jay Breen tastefully holds down the grooves, also rare in local funk, while organist Parker and guitarist Piper drive each cut with precision. Other highlights include Mr. McFeeley and the cleverly titled Smack My Bishop."
Steve Perez, Boston SOUNDCHECK Magazine, November 1999 Amplifier
"There's no vocals here folks, just smokin', free form jazz-based R&B punctuated by smoldering Hammond organ solos, bellowing sax runs, groovin' guitar licks, poppin bass lines and funky, funky, funky drumming. The Freelance Bishops are a taut unit that make magical stew out of each and every song... and they do it in convincing fashion. This is a great band that knows their instruments inside and out and knows how to work with one another. This is definitely one of the finest CD's I've heard from a local band in some time. Dynamite!"
Douglas Sloan, Metronome Magazine, October 1999 Hearings
One of Doug's Top 5 for October 1999